Submitted by Ms. Tess!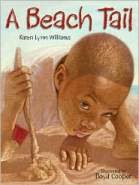 It might be cold and wintry, but I feel warm and sunny when I read
A Beach Tail
by Karen Lynn Williams, with illustrations by Floyd Cooper. This book invokes the experience of being a child at the beach, and discovering the gifts of the ocean, so clearly that I can almost hear the roar of the waves, feel the sand between my toes, and smell the salt in the air! It's the story of a boy named Gregory, who is spending a lovely day at the beach with his father. Gregory draws a lion in the sand, and names him, naturally, Sandy. Sandy needs a long tail, but Gregory promises not to go far from his dad, on the dolphin towel, under the blue umbrella. Sandy's tail grows longer and longer, as Gregory encounters a jellyfish, a horseshoe crab, and a ghost crab. Gregory gets a little carried away with his drawing, until suddenly he can no longer see his dad! But it's alright, because Sandy's tail will lead him all the way back to the dolphin towel, and the blue umbrella, and Gregory's father, who suggests they go for a swim! If you want to take a break from reality, check out
A Beach Tail
, and pretend you're relaxing on the beach too!
See this book listed in our catalog