Submitted by Ms. Amanda!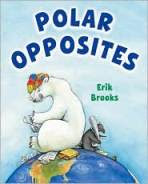 My closest friends throughout life have always been very different from me and lots of ways.
Polar Opposites
by Erik Brooks is an adorable book that teaches friends aren't always alike; they can be very different. Such is the case of the main characters in this picture book. Alex and Zina are friends. Alex is a polar bear from the Arctic, and Zina is a penguin from the Antarctic. They are
Polar Opposites
because they live on opposite sides of the world, and they are also opposites in many other ways. Alex has white shaggy fur, and Zina is black and smooth. Alex is messy, and Zina is neat. Alex is loud, and Zina is quiet. Alex stays up late, and Zina rises early. Even though Alex and Zina are so different, they are still best friends, and each year they agree to meet in the middle, the Equator, for vacation!
See this book listed in our catalog