Submitted by Ms. Tess!
I was very excited (perhaps a little too excited) to discover that Andy Runton, creator of one of my absolute favorite graphic novel series, the Owly books, has a brilliant new picture book!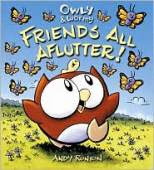 Friends All Aflutter is in the same wordless style as Runton's books for older kids, but in a new format, friendly for younger children. Much beloved characters Owly and Wormy are interested in butterflies. They figure they need to plant some flowers to attract butterflies, so they go to the nursery. But when their flowers bloom, there are caterpillars living in them instead! Owly and Wormy are mildly outraged by this turn of events, but grow extremely fond of the caterpillars over time. So fond, in fact, that they are terribly sad to learn their caterpillar friends must go away for the colder seasons! Owly and Wormy miss their new friends, but won't they be surprised when they get the butterflies they originally wished for in the spring? Friends All Aflutter is charming in so many ways. I love how clearly Runton tells the story without any text. I love the message of friendship and devotion it delivers. I even love that when Owly has an idea it's illustrated by the appearance of an energy efficient light bulb above his head!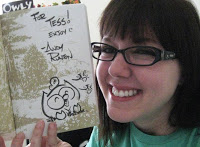 I've had the pleasure to meet Andy Runton, and have a book signed by him, and he was a super sweet guy, so I might be a little bias, but I assure you I am not the only person at this library that adores Owly. Every time I put an Owly book on display, it is checked out within 24 hours. Every single time. So I simply must implore you to do yourself and your little one a favor by checking out the sufficiently delightful Friends All Aflutter ASAP. I do not think you'll be disappointed 🙂 See this book listed in our catalog