Submitted by Ms. Tess!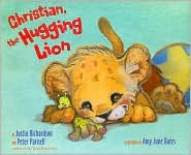 Christian, the Hugging Lion
by Justin Richardson and Peter Parnell, illustrated by Amy June Bates, is based on the incredibly true, and touching, story of two men, Ace and John, who raised a lion cub in their London flat together! In the late 1960's/early 1970's it appears that Harrods, the swank British department store, had an exotic pet section, where Ace and John came upon a lion. "A store is no place for a lion to live," they said. So, they took him home, and named him Christian. Christian was happy with Ace and John. He loved them very much, and even gave them hugs. But after a year he was starting to get too big for Ace and John's home, and they realized Christian really belonged in the wild. They planned a trip to Kenya, where they left Christian in the capable hands of Mr. Adamson, a man who taught lions how to live in the wild, after being in captivity. Ace and John knew they did the right thing, but still missed Christian, and one day went on a safari to try and find him. Mr. Adamson said Christian was fully grown, with a family of his own, and might not remember them. But Christian saw his friends, he raced to them, and gave them a great big lion hug!
See this book listed in our catalog
or
watch a video featuring footage of the real Christian, and his reunion with Ace and John