Submitted by Ms. Tammy!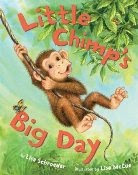 Little Chimp's Big Day
by Lisa Schroeder, illustrated by Lisa McCue. Little chimp is left alone on a tree branch waiting for his mother to return. Suddenly the branch snaps, and little chimp lands on the jungle floor in a mucky patch of mud. Although scared, little chimp starts to explore the jungle, taking a watery ride on a hippo, swinging on vines, escaping a jungle cat, and munching bananas from a tree. Little chimp wonders "Where could Mother be?" as he moves through the jungle from one adventure to another. If you look closely on each page, you may just find where little chimp's mother has been during his busy day. In the end little chimp is reunited with his mother and they cuddle together, safe at last.
See this book listed in our catalog