Submitted by Ms. Tess!
Some kids don't like to get books for a holiday gift. Like, this kid, for instance. But if the elementary school aged child in your life loves books, and loves animals, might I suggest checking out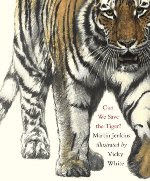 Can We Save the Tiger by Martin Jenkins, with illustrations by Vicky White. This is a beautiful book about endangered animals, featuring words that are accessible and kid-friendly, with sketches that are life-like, and gorgeous. Can We Save the Tiger is informative for folks of all ages, explaining simply how some species become threatened, and what we can do to help. It is somewhat ludicrous to me that the tiger could become extinct, but it is sadly a very real possibility. There may be a generation in the not-so-distant future that will never see one alive.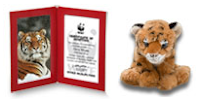 Or a polar bear. Or even vultures and iguanas. You can see this book listed in our catalog, or you could consider giving it at a gift during this year's festive season. You might pair it with a symbolic species adoption through the World Wildlife Fund. When you make a donation, you can receive a plush toy of your chosen animal, as well as a certificate. What a terrific way to make the little one (or grown ups) in your life more aware of conservation efforts! And for more ideas of fun ways to give good books for the holidays, check out my friend Pam Coughlan's blog!