Submitted by Ms. Amanda!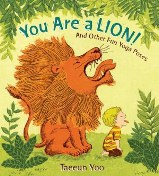 Namaste!
You are a Lion! And Other Fun Yoga Poses
by Taeeun Yoo is a playful introduction to simple yoga poses. This book gives step by step directions to simple yoga poses for kids. The directions are supplemented with colorful illustrations of each pose. The lion, butterfly, cat, frog, and many more are shown simply on a white page with directions, and then in the habitat of the pose's namesake. This book is fun for caregiver and child alike. It will stretch and calm the littlest beast, encouraging them to relax and breathe.
See this book listed in our catalog