Submitted by Ms. Tess!
As kids are heading back to school, or heading to school for the first time, it may be appropriate to have conversations about appreciating people's differences, and the value of being kind to one another. It's never too early to learn lessons about independent thinking, problem solving, and self reflection. All of these skills are vital to life success. Start a healthy discussion about these topics with your child with the help of these books: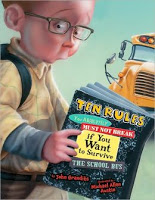 In Ten Rules You Absolutely Must Not Break if You Want to Survive the School Bus by John Grandits, illustrated by Michael Allen Austin, our hero, Kyle, is riding the bus to school for the very first time. His older brother, James, is a school bus pro, and has helpfully provided Kyle a list of things to definitely NOT do if he doesn't want to get "pounded" by bullies on the bus. But OH NO, within the first 5 minutes of the ride, he's already broken 3 rules! And it just gets worse from there! Or does it? Maybe James doesn't know as much as he thinks he knows about riding the bus. Maybe Kyle doesn't need rule #7: "Never talk to girls." The girl he met on the bus is really nice! And she's the captain of the kick ball team! Maybe Kyle doesn't need any of his brother's rules! Maybe he can survive to school bus all on his own. See this book listed in our catalog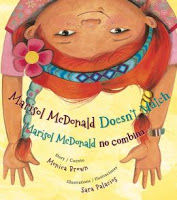 Meet Marisol, the star of Marisol McDonald Doesn't Match by Monica Brown, illustrated by Sara Palacios. People tell her she doesn't match. She has brown skin, but red hair! She eats peanut butter and jelly burritos! She wears polka dots with stripes! She doesn't see why anything has to be one way or another. What's wrong with writing your name in cursive and print? Where's the harm in playing "soccer pirates" when you can't decide if you want to play soccer or pirates? Her friend Ollie says "Marisol, you couldn't match if you wanted to!" Sounds like a challenge to Marisol. The next day at school, she tries very hard to "match," and finds she doesn't like it much. Marisol learns that it's okay to be different. Being different makes her a very special person. See this book listed in our catalog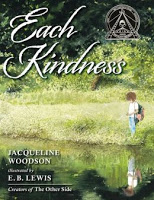 Each Kindness by Jacqueline Woodson, illustrated by E.B. Lewis, takes a more serious approach to the theme of independent thinking. It's a very deep and contemplative book about a girl named Chloe, and a girl named Maya. Maya is the new girl at school. Right away everyone notices that Maya's clothes are tattered, her coat doesn't zip, and she's wearing spring shoes in winter. When she sits in her seat next to Chloe, she smiles at Chloe. Chloe does not smile back. When Maya asks if Chloe and her friends want to play with her, they say no. They call her "Never New" because her clothes and toys are all obviously second hand. This continues throughout the year. One day Maya doesn't come to school. That's the day their teacher, Ms. Albert, gives a lesson on kindness. She brings a big bowl of water to class. She drops one stone in the water. The children see how one small pebble makes a ripple effect across the whole bowl of water. Kindness is like that. One simple act of kindness can have a ripple effect that could change the world! Ms. Albert gives all the children a stone and asks them to drop it in the water while saying a nice thing that they have done recently. Chloe can't think of a single thing. She immediately feels terrible for not showing kindness to Maya when she had the chance, plenty of chances at that. She vows that the next time she sees Maya, she will smile back. But what if Maya doesn't come back to school? See this book listed in our catalog
All of these books are great conversation starters for your school aged child. Reading books like these reinforces values of thinking for yourself, solving problems on your own, being nice to everyone, and reflecting on things you've already done. Nurturing these skills will help prepare our children for a life time of tolerance, resilience, and, most importantly, happiness.