Submitted by Mr. Eric!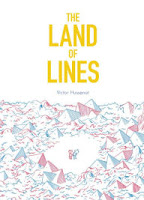 The Land of Lines
by Victor Hussenot. In the land of lines, anything is possible… There are red and blue lines everywhere, crisscrossing each other to form a forest of scruffy trees and pointy rocks. They twist around to form canyons and mountains, waterfalls and swamps, and even weird shapes that seem to sprout from someone's imagination. Amidst this chaotic forest of blue and red lines are two individuals, seemingly lost. One is a boy drawn in blue, the other a girl in red. Once they find each other, they embark on an adventure that is both dangerous and exciting. This wordless picture book has such a unique art style that it's almost difficult for the reader to take their eyes away. It consists entirely of three colors: blue, red, and another mysterious color that emerges about halfway through the story.
The Land of Lines
paints a world where anything is possible, and readers young and old alike are sure to find it charming.
See this book listed in our catalog