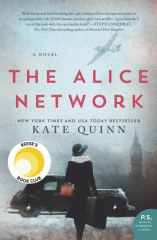 The Alice Network by Kate Quinn
Format: Book
Who it's for: Adults
This story has all the elements I love…history, mystery, romance, strong women and spies!  Eve Gardiner was a spy in France during World War I.  After World War II, Charlie St. Clair is searching for her cousin Rose who disappeared in France during the war.  In order to find her cousin, Charlie seeks help from Eve.  Reluctantly, Eve decides to help but it brings back memories of the war and her involvement in the Alice Network, a network of women spies.  The story jumps between Eve's memories in 1915 and the search for Charlie's cousin in 1947.  What happened to the Alice Network after World War I?  Was Charlie's cousin, Rose, a spy and member of the Alice Network during World War II?  And, what exactly happened to Eve that has made her a mean old woman?