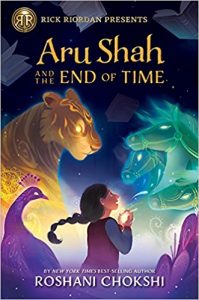 Aru Shah and the End of Time by Roshani Choksi
Publication Date: March 27, 2018
Format: Book
Who it's for: Kids
Aru is 12 years old, and doesn't fit in at her wealthy private school. When her classmates dare her to prove a cursed lamp in the family's museum is real, Aru accidentally lets lose an ancient demon from Indian mythology that freezes her mother and starts the end of the world. To save everyone and everything, she must discover her true identity as a reincarnated hero of ancient India, find the other heroes, find her weapon, and stop the Sleeper from ending all of time… in just nine days.
Find it in the catalog.