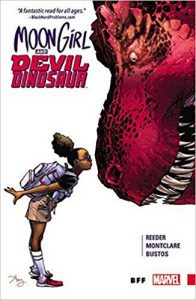 Moon Girl and Devil Dinosaur Vol. 1: BFF by Amy Reeder, Brandon Montclare, and Natacha Bustos
Format: Graphic Novel
Who it's for: Kids, Teens, Adults, Everyone
Lunella Lafayette's got problems. She's the smartest fourth grader at PS 20, and I don't mean she's just smarter than all her fellow students. She's smarter than all the teachers too! She'd love to go to another school where she's challenged more. But bigger than that: Lunella was born with the Inhuman gene, and when she's exposed to the Terrigen Mist her super abilities will present themselves, and Lunella doesn't want to change! She wants to stay herself! She discovers a device she thinks will protect her from the Terrigen Mist, but upon activation it creates a portal in time and space through which a red Tyrannosaurus Rex and a gang of Neanderthals called the Killer Folk travel! Now the Killer Folk are wreaking havoc in her neighborhood and the T Rex is following Lunella around like puppy! Really, what's a girl to do?
This is fun graphic novel, and a true all-ages story that everyone can enjoy. Lunella is a lovable hero, and her adventures are just beginning in this book! Check out Vol. 2: Cosmic Cooties, where Lunella meets a new boy at school (and maybe an arch enemy), Vol. 3: The Smartest There Is where Lunella tests her intellect against the rest of the Marvel Universe, and Vol. 4 Girl-Moon where Lunella the Moon Girl meets a girl who's an actual moon! Find Moon Girl and Devil Dinosaur in our catalog