What to Do when I'm Gone: A Mother's Wisdom to Her Daughter By Suzy Hopkins & Hallie Bateman (illustrator)
Format: Book
Who it's for: Adults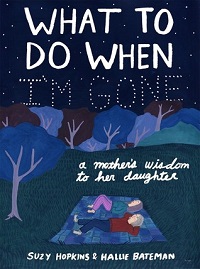 This is a nonfiction book written and illustrated by a mother-daughter duo. Bateman has the sudden realization that her mother, writer Suzy Hopkins, will not live forever. Unable to imagine life without her mother's guiding voice, Bateman asks her mother to write step-by-step instructions to follow in the event of her mom's death. Hopkins agrees, and the end result is an illustrated, day-by-day instruction manual on navigating life's up and downs, including everything from making new holiday traditions to making the decision to have children. Despite the solemn topic, Hopkins maintains a lighthearted tone and sprinkles her writing with bits of humor and recipes, including fajitas, chocolate brownies, chili, chicken and dumplings, and curry to cure your heartbreak. Find this book in our catalog.