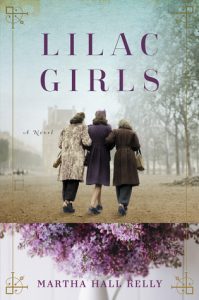 Lilac Girls by Martha Hall Kelly
Format: Audio Book
Who it's for: Adults
World War II has always fascinated me and it has always been my favorite genre.  The Lilac Girls is definitely a new favorite of mine.  Set in World War II, the author takes you through the lives of three different women during the war.  The women are from three different countries and with three completely different perspectives.  Each woman's character:  a Polish woman who is sent to Ravensbruk internment camp, a German doctor and an American debutante is fully developed and it is easy to become enveloped into the mindset of each woman.  You experience the war from three different viewpoints.  Eventually the women's stories collide as the war ends.
Although this is fiction, the characters are based on three actual women of the time period.  The author takes you into each woman's life and makes you feel like you are there with them.  If you are a WWII era fan, this is a can't miss book.
I love to sit down with a good book, but I also love a well done audio.  This audio book was narrated by three different women.  As the novel switched between narrators, the readers each did a wonderful job creating their character which makes it easy to follow each storyline.