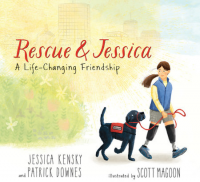 Rescue & Jessica: A Life Changing Friendship by Jessica Kensky and Patrick Downes
Format: Easy Picture Book
Who It's For: Children
Rescue is a pup who grew up on a special farm where dogs are trained to help people who cannot see. His trainer said he would be better suited as a service dog. Could he be a good service dog and what would his new partner be like? Then he meets Jessica, a girl whose life turned out differently than she thought. Jessica needs Rescue by her side to help her accomplish everyday things. Her legs were badly hurt and she had to have part of her left leg removed to become healthy again. She is an amputee now, said her Doctor and she would need a prosthetic leg or use a wheelchair.
On the farm, Rescue was learning how to be a service dog who could open doors, fetch things and be a helper.
Jessica was learning new ways to do things. It was hard and she was discouraged until a visitor came and brought their service dog. Jessica saw how a smart dog like that could help her and filled out an application to get a dog that day.
Rescue and Jessica got the news that they would be partners. Rescue and Jessica finally met. Rescue showed her all the things he could do to help her. "You're amazing!" Jessica told Rescue. They learned how to take care of each other.
This story is based on a real life friendship between Jessica Kensky and a black Labrador retriever named Rescue. Jessica was injured during the 2013 Boston Marathon bombing. She eventually became a double amputee. Rescue and Jessica learned how to do all the things they needed to do together.
Find it in the catalog.