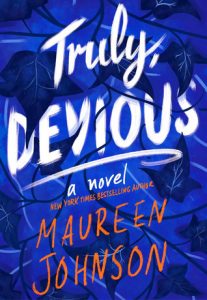 Truly Devious by Maureen Johnson
Format: Book
Who it's for: Teens
Stevie Bell loves murder – not committing it, but studying it, especially the 1936 Truly Devious case – a series of murders committed at Ellingham Academy, an elite high school for young innovators. When Stevie gets the chance to attend Ellingham, she makes solving the Truly Devious crime her own personal project. However, when a student ends up dead, Stevie begins to suspect that the murderer from over 80 years ago is somehow back to wreak even more havoc.
Maureen Johnson has a talent for making characters feel real, and Stevie Bell is no exception. You understand her point of view and will cheer her on as she gets closer and closer to solving the crime. With a touch of romance and some lovely friendships, this is a wonderful story about Stevie becoming more comfortable in her own skin, as well as an intriguing mystery you won't want to put down. Fair warning, this is the first book in a trilogy, so the story ends on a bit of a cliffhanger, and you'll anxiously be waiting for the next Truly Devious mystery.