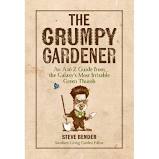 The Grumpy Gardener: An A-Z Guide from Galaxy's Most Irritable Green Thumb By Steve Bender
Format: Book
Who's it for: Adults
If you are in the midst of planting your gardens, you will find the book, The Grumpy Gardener, a resource of helpful information with humor on the side. Steve Bender is full of knowledge in this new gardening book. I liked the arrangement, A-Z format with illustrations throughout. His wit and knowledge will give you solid tips in tackling; how to plant, pests like moles, squirrels and deer, disease and many other gardening issues that can occur.
Mr. Bender has a featured column each month in the Southern Living Magazine. Always addressing season to season planting needs.
I find myself always going to his column. An enjoyable, informational new gardening book.
"Great addition to any Southern library." – Southern Living