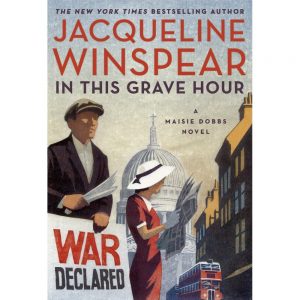 In This Grave Hour by Jacqueline Winspear
Format: CD Audiobook
Who it's for:  Adults
Jacqueline Winspear writes the Maisie Dobbs series about a young English woman detective.  Her writing is highly entertaining and she describes everything in great detail.  Orlagh Cassidy is an award winning narrator who is able to change her accents to make each character distinct as well as speak in different languages.  The combination of author and narrator makes this audio book a pleasure to listen to.
In This Grave Hour is set in England in September of 1939, just as World War II is beginning.  Maisie, a young private investigator with experience solving murder cases, is tasked with solving the murders of three former Belgian men who become refugees in England.  As the investigation proceeds, Maisie encounters other murders that are somehow connected to those of the Belgian men.  To further complicate the situation, a young refugee girl arrives with a train of children being sent to England to live with families to protect them from the violence of war in their own countries.  The little girl, named Anna, doesn't speak and Maisie is determined to find her family.  Britain is on the brink of war and is approaching its gravest hour.  I highly recommend this audio book if you enjoy mysteries and historical fiction.  I'm looking forward to listening to the next book in this series.