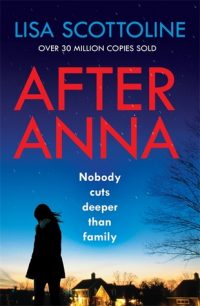 After Anna by Lisa Scottoline
Format: Audiobook
Who's it for: Adults
Lisa Scottoline never fails to come up with a plot that is believable and has a thrilling twist!
In the audiobook "After Anna" you'll hear about a family who has been reunited with a long lost daughter. Anna wants to reconnect with her mother, Maggie, who was voluntarily institutionalized with postpartum psychosis after her birth. Anna's extremely wealthy father whisked her away to Europe, but eventually left her in a boarding school. Maggie has since recovered, and her new husband Noah along with his son Caleb, have created an idyllic little family. Out of the blue she gets a call from her daughter, Anna, who wants to reunite with her mother and very quickly, comes to live with them. However, it is not a fairy tale ending! Soon after moving in Anna is murdered and her stepfather Noah is blamed.
The author unravels the story with a back and forth look of "Maggie, Before" and "Noah, After" chapters, referring to Anna's death.
I always like her books because she tends to throw in that "didn't see that coming" plot twist. Also, since the author is a former attorney, she shares her expertise with the reader/listener and I always learn some interesting facts about the law as well.​ Find it in the catalog.