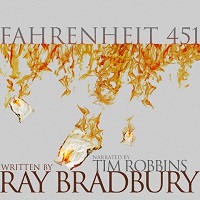 Listen to the Book, Watch the Movie!
Audiobook: Fahrenheit 451 by Ray Bradbury
Movie: Fahrenheit 451 – HBO Original Movie
Movie Release Date: May 12, 2018
Starring: Michael B. Jordon, Lilly Singh, Sofia Boutella and Michael Shannon
Listen to Ray Bradbury's classic novel Fahrenheit 451, narrated by Tim Robbins, and then watch the new HBO Original Movie starring Michael B. Jordon as Montag, a fireman whose job is to burn rather than save. Montag becomes increasingly concerned about his career of burning books as he meets a stranger (Clarisse) who sees the world in a very different way than anyone he has met before. He grows tired of the mindlessness of his everyday life and seeks guidance and comfort in the very books he has been told to burn. The story follows the conflict between what Montag knows and what he seeks to know while exploring his struggle with his fire captain mentor, Captain Beatty; his wife, Millie; and a new mentor who loves books and knowledge, Faber.