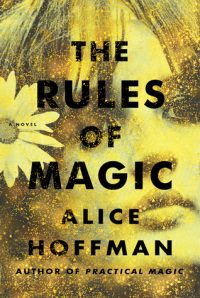 The Rules of Magic by Alice Hoffman
Format: Book, Audiobook, eBook, & Digital Audiobook
Who it's for: Adults
To protect Franny, Jet, and Vincent Owens from their family's curse, their lives have been lived in accordance to a list of strict rules: No walking in the moonlight, no red shoes, no wearing black, no cats, no crows, no candles, no books about magic, and most importantly, no falling in love. However, this all changes when the Owens trio pays a visit to their Aunt Isabelle, who decidedly rejects all notions of curses determining one's fate. Between reading magical texts, formulating hexes, brewing up potent teas, and hand-making batches of "cure-all black soap", the siblings learn an entirely new set of rules to live (and to love) by. Firstly, do as you will, but harm no one. Secondly, what you give will be returned to you in threefold. And lastly, fall in love whenever you can.
Written in a series of distinguished parts, the story is driven forward by each of the sibling's interpretation of these rules and their evolving understanding of their true identities. Hoffman's prequel to her widely popular novel, Practical Magic, explores the importance of autonomy and the complexity of legacy.