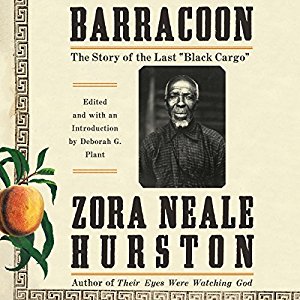 Barracoon: The Story of the Last Black Cargo by Zora Neale Hurston
Format: Digital Audiobook
Who it's for: Teens and Adults
Barracoon: The Story of the Last Black Cargo is excellent as an audiobook! Zora Neale Hurston interviewed 86-year-old Cudjo Lewis, the last living person able to tell the story of being transported from Africa to America as a slave. Cudjo was born in Africa and as a young man was captured and brought to America packed on a slave ship with more than 100 others, lived as a slave for several years, through the Civil War and then many years after as a free man in Alabama. Told in his voice using Cudjo's unique vernacular, the audiobook helps the reader hear and understand Cudjo's story. Barracoon is recommended for people interested in history, civil rights, and stories about the resilience of the human spirit.
Find it in the catalog or on Hoopla