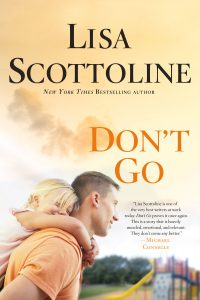 Don't Go by Lisa Scottoline
Format Audio Book
Who's it for: Adults
In this gripping and emotional novel that explores the boundaries between family, justice and love.  A military man discovers what he is made of on duty and at home.
Dr. Mike Scanlon is a reservist who accepts the call of duty so serve as an Army Medical Corps doctor in Afghanistan.  He is very aware of the dangers he will face and the hardships his being away will cause his wife, Chloe and their newborn daughter Emily.  But while when Mike is away, it is Chloe who dies in the Scanlon's very own kitchen, a victim of an apparent household accident.  Devastated, Mike returns home to bury her, only to discover that the life he left behind has fallen apart.  His Medical practice is in jeopardy, he is a stranger to his own daughter, and he discovers a shocking secret that sends him into a downward spiral.  As layer upon layer of lies are revealed, Mike realizes that the most important battle of his life faces him on the home front and soon he must put it all on the line to save what matters the most.