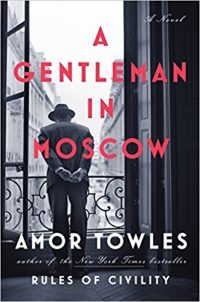 A Gentleman in Moscow
By Amor Towles
Who it's for: Adults
Count Alexander Rostov appears before a Bolshevik tribunal in 1922 Moscow and is sentenced to house arrest. He will live out the rest of his days at the luxurious Hotel Metropol. If he sets foot outside the hotel, he will be shot on sight. Moved from his luxurious suite to a former storage room at the top of the hotel, the Count notes: "If a man does not master his circumstances then he is bound to be mastered by them." And so Rostov sets about mastering his circumstances. The hotel is home to restaurants, a cocktail bar, and a barbershop, but also to a multitude of empty rooms, secret passages, and more that the Count explores with Nina, a nine year old girl living in the hotel temporarily.
Over the next 32 years, we follow the Count through his life at the hotel, including a love affair, a family life of sorts, and a new career. He maintains his aristocratic flair, but is not too proud to learn from those with whom he spends time. The novel also provides a view of the changes occurring in Russia in these years. An old friend of the Count weaves in and out of the story to describe the changing political environment, and the narrator describes physical changes happening outside the walls of the Metropol. The chilling events and atmosphere of Stalinist Russia are not the main focus of the novel, but they lurk in the background and certainly impact the Count and his friends (some more harshly than others).
Philosophical, witty, and lyrical, A Gentleman in Moscow is highly recommended. This isn't a quick, action heavy read, but one full of memorable quotations and moments meant to be savored. Recommended for fans of Anthony Doerr, Kristin Hannah, and Muriel Barbery.