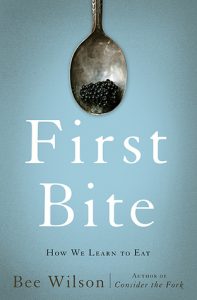 First Bite: How We Learn to Eat by Bee Wilson
Format: Book, eBook, Digital Audiobook
Who it's for: Adults
We all know that we're "supposed" to eat better: more broccoli and whole wheat bread, less soda and cotton candy. Sounds easy…but often it feels next to impossible, because the broccoli just doesn't taste good to us. But how do we learn that "soda tastes good" and "broccoli tastes bad" to begin with? Believe it or not, the author tells us, it's not an inborn preference.
As Wilson notes, once a baby anteater is weaned, it will eat ants for the rest of its life. For us humans, well…it's a little more complicated. The author takes us on an intriguing tour of how we learn what to eat (and what not to). The book covers the bizarre history of what has been considered "children's food" in different eras, how siblings affect our eating habits, and a close look at some of the causes and possible treatments for those who struggle with eating disorders. There are numerous gentle lessons along the way, both for adults in charge of the care and feeding of a child, and for adults who'd like to retrain their own palates. Find it in the catalog.