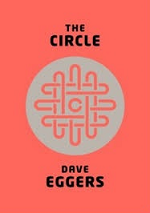 The Circle by Dave Eggers
Format: Book
Who it's for: Adults
Mae Holland finally lands a fantastic job with a very prestigious tech company known as The Circle. She becomes increasingly proficient at gathering information through the widespread web of software and websites owned by the company. Through the connection of millions of live social media cameras and worldwide viewership, The Circle brings people closer together every day. The beautiful company campus offers a variety of extracurricular activities including live music performed by famous musicians and huge company parties. With meals prepared by five star chefs and dorms provided for free, it's almost as if Mae never needs to leave the campus. Social media is a useful tool that brings joy to most but how much of our lives are we willing to make public? Through Mae's eyes we see one possible future for the development of social media and how increasingly transparent all of our lives could become.