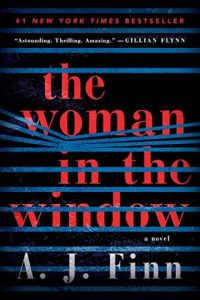 The Woman in the Window by A.J. Finn
Format: Book
Who's it for: Adults
Anna Fox is a recluse in her own home.  She spends her days watching the neighbors through her camera lens, watching old murder movies and talking to her estranged husband and daughter.  When the new occupants of the house across the park move in her quiet, solitary life is suddenly shattered.
As each of the new neighbors appears at her door, she becomes drawn into their lives.  One night, she sees something strange and shocking in their window.  But, did she really see something?  When she wakes up in the hospital with the police questioning her, the entire night spins out of control.  Did she imagine what she saw, was she drinking too much, who really are her new neighbors?  Anna sinks further into confusion as everything she believes is questioned.
This thriller will have you wondering who is in danger and what is really wrong with Anna. Find it in our catalog