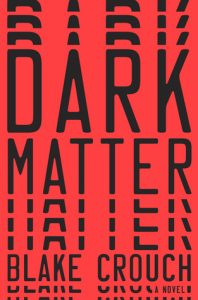 Dark Matter by Blake Crouch
Format: Book
Who it is for: Adults
Jason Dessen is content. He has a perfectly acceptable job and a beautiful and loving family. But is he truly happy with his life? Jason is forced to face this question when a masked man abducts him and throws him into a world where everything is slightly different. His wife isn't his wife. His son was never born. His job isn't his job and nothing makes sense. Jason must use every resource imaginable to figure out what is going on and find the family he knows is out there somewhere.
Blake Crouch takes a story that could have easily gotten bogged down in technical jargon and instead creates a world that keeps you riveted from page one. As Jason works to determine what's happened, the reader gets completely drawn into his search for the truth. If you're looking for a science fiction thriller that will keep you hooked from the first page to the last, check out Dark Matter by Blake Crouch. Find it in the catalog.