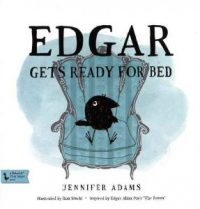 Edgar Gets Ready for Bed by Jennifer Adams, Illustrated by Ron Stucki, Inspired by Edgar Allan Poe's "The Raven"
Format:  Book
Who it's for: Kids
Little Raven Edgar doesn't want to get ready for bed.  When mommy asks him to eat his dinner, be nice to his sister, clean up his mess and take his bath, his answer to her is always, "Nevermore!"  Mommy is getting tired and very frustrated but finally takes time to read him a story.  She read "The Raven" by E. A. Poe.
This is a charming bedtime story to read to your little ones.  It has simple illustrations and very real conversations between Mommy and Edgar.  I loved the sweet ending that reassures baby bird that his mother will love him "Evermore".