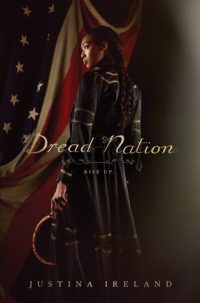 Dread Nation by Justina Ireland
Format: Book
Who's It for: Teens
In which I find myself surprisingly entertained…
Dread Nation, an alternate historical fiction, is not a genre I usually read yet I thoroughly enjoyed this tale. Set in the time of the civil war, the is told from the perspective of Jane, a house slave who has been sent to Miss Preston's School of Combat for Negro Girls. While at schools the girls learn how to be attendants to wealthy women and also how to quickly and efficiently dispatch Shamblers, which are zombies.
I am not a fan of zombies but in Dread Nation, they aren't the focal point. It was the relationships between the cast of characters, the engaging action scenes and Jane's sarcastic humor that truly held my attention. Jane is a spitfire who believes in telling it like she sees it but she's also smart enough to know when to play the role of a submissive slave. This makes her perfect as the books voice. Each chapter is preceded by a short letter from Jane to her beloved mother, revealing a softer, more vulnerable side of Jane that is usually tucked away. The titles of the chapters are her short and often amended perspective on the events about to unfold.
The author does a good job of addressing and balancing the racial prejudice that was prevalent during this time period while still making this is fun story of survival, friendship and mayhem.