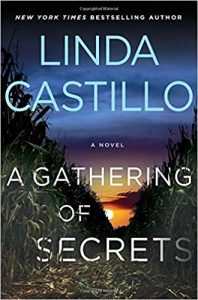 A Gathering of Secrets by Linda Castillo
Format:  Audiobook
Who it's for:  Adults
Another plot twister by Linda Castillo!  In this latest audio book you'll hear another story about the dark side of Amish life.
The main character, Chief of Police, Kate Burkholder investigates a fire that completely destroys a barn on an Amish farm in the community of Painter's Mill.  When the body of an 18 year old Amish boy is discovered in the ruins, it is ruled a homicide and Kate has to unravel the secrets.  As the truth comes to light, the twists and turns of the story will keep you in suspense until the very end!
I enjoy all of this author's books and recommend them to readers who love a good mystery/thriller.  Since the author has the same characters in her books, I recommend reading from the beginning of the Kate Burkholder series.  You'll discover that Kate was Amish but left the faith after a life changing event in her young life.  She is appointed the Chief of Police in the small town because of her past relationship with the Amish.
The reader, Kathleen McInerney does an excellent job!  And of course, you can always read this bestseller in book form too. Find it in the catalog.