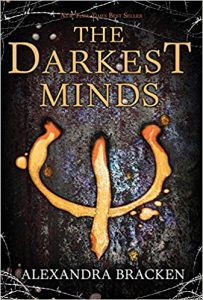 Read the Book, Watch the Movie!
Book: The Darkest Minds by Alexandra Bracken
Movie: The Darkest Minds
Movie Release Date: August 3, 2018
Ruby first witnessed the effects of Idiopathic Adolescent Acute Neurodegeneration (IAAN) when her classmate spontaneously dropped to the cafeteria floor during lunch. This mysterious disease has since killed 98% of America's youth population in rapid succession.  Those few that do not succumb to the illness emerge with an assortment of powerful (and frightening) abilities.  So frightening in fact that when Ruby awakes on her 10th birthday, her parents lock her in the garage and immediately call the police.  She's then carted off to Thurmond, a government-run camp operating under the guise of "rehabilitation" manned by the US military's new Psi Special Forces (PSF) branch.  Upon her arrival,  Ruby discovers that kids with her particular kind of abilities are considered especially dangerous and are to be executed on-sight.  In a desperate act of self-preservation, Ruby disguises herself and her abilities to escape detection.
Now 16, Ruby's secret is out and a group called the Children's League comes to aid her in her escape from camp.  In exchange, they want to train Ruby as a soldier in their fight against the government.  Perturbed at the idea of being used as a weapon, Ruby runs – right into a group of kids in search of East River, a haven hidden away to protect AWOL youth like themselves.  She joins their ranks, but she fears that her presence is putting her new friends in danger.  PSF's and Skip Tracers are intent on tracking them down and Ruby's lack of control over her abilities puts everyone at risk.  While war wages on the outside, Ruby must battle her want of companionship against her need to protect said companions.
The first in a series, The Darkest Minds is thrilling, heart-breaking, and a little bit terrifying from beginning to end, exploring themes of friendship, self-sacrifice, and overcoming fears along the way.  Find it in the catalog.