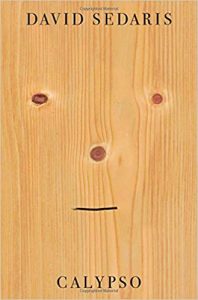 Calypso by David Sedaris
Format: Audiobook, Book
Who it's for: Adults
Calypso might just be David Sedaris at his best. It's a bit darker than some of the author's previous works (included are stories about his sister's suicide and his mother's alcoholism), but his wry humor comes through at every turn.  
A collection of stories dealing with middle age, family, snapping turtles, and trash collecting while wearing a Fitbit, Calypso is filled with observations and interactions that range from the mundane yet oddly humorous, to the wildly absurd. The stories take place in various locations, from the West Sussex home he shares with his partner, Hugh (and, for a time, a fox named Carol), to the family beach house on Emerald Isle nicknamed the Sea Section, to various US cities and towns visited on speaking tours (including El Paso, TX, where a doctor in the audience offers to remove the benign lipoma from his abdomen and give it to him so he can feed it to a snapping turtle).
Sedaris narrates the audiobook and it is highly recommended. For fans of Augusten Burroughs, Sarah Vowell, and Dave Eggers.