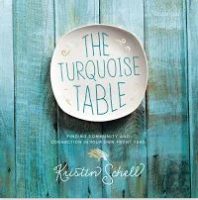 Life sure can be busy at times…okay, maybe even verging on hectic most days! Where does the time go? And more importantly, how are we spending this time? Do we often feel like we are missing out on something more important while being caught up in the whirlwind of day-to-day activities?
The philosophy of The Turquoise Table reminds us to take the time to slow down, unwind, and focus our energies on making meaningful connections with others in our community. Author, Kristin Schell, decided on a whim to paint a picnic table a bright shade of turquoise, pop it in her front yard, and open the invitation for neighbors to join her at the table. She was pleasantly surprised by the popularity of this gathering space in her neighborhood and was inspired to encourage others to follow suit, hence the creation of a book, a website, and a podcast all by the same name. Across the United States, and even in several other countries, people have begun setting out turquoise tables as a way of better connecting with friends and neighbors.
Actually doing this of course can seem daunting and feel more like one more chore on our to-do list. But the author reassures us that being mindful in the moment and building neighborly relationships is as simple as showing up and making yourself available. The rest of the details sort of just fall into place from here. To put your own Turquoise Table plan into motion, you simply need a place to gather and a time to meet. A turquoise picnic table was the author's original idea but you can get creative; a picnic blanket or set of chairs would work just as well! And even if its just for fifteen minutes, making yourself available to converse with neighbors and catch up with old friends can be wonderfully heartwarming.