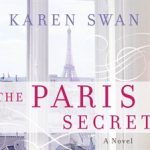 The Paris Secret by Karen Swan
Format:  Digital Audiobook
Who it's for:  Adults
Flora Sykes, an art dealer, is in the middle of a family crisis when she is suddenly called to Paris to help assess the value of some art found in an abandoned apartment.  When she arrives, she discovers that the apartment has not been touched since World War II and is full of paintings including a Renoir.  Flora can't help but question why the apartment and everything in it were left untouched for so long.  In order for the art to be sold, they must find the provenance.  How did the Vermeil family end up with the art?  All roads lead to the Nazis.  Scandal ensues.
Meanwhile Flora's brother is in trouble and her family is dealing with its own scandal.  And, Flora is drawn to elusive Xavier Vermeil.
Romance, intrigue, history, art and the fabulous City of Light, Paris.  What more could you want?