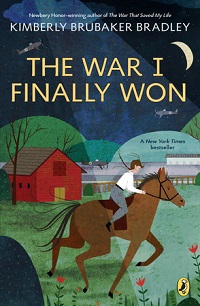 The War I Finally Won by Kimberly Brubaker Bradley
Format: eBook
First Book: The War That Saved My Life
Who it's for: Kids
The War I Finally Won is the second book following the story of Ada and her brother Jamie living in England during World War II. The first book, The War That Saved My Life, tells of how Ada and Jamie flee London and find safety with their guardian, Susan. This second book starts with Ada's clubfoot being surgically fixed and the many emotions she experiences as she realizes that she is able to walk, run and do all the things her mother always derided her for not being able to do. She has to grapple with the question: who is she now? As the war continues, Ada and Jamie must learn to find hope and joy in difficult times while experiencing loss and fear. Can they learn to love a German? Can they help the war effort and stay optimistic? Ada makes new friends in unexpected places, and she is finally able to find her home. Find it in the catalog.