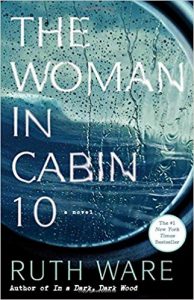 The Woman In Cabin 10 by Ruth Ware
Format: Book
Who it's for: Adults
In this tightly wound, enthralling story, Lo Blacklock, a journalist who writes for a travel magazine, has just been given the assignment of a lifetime, a week on a luxury cruise with only a handful of cabins.  The sky is clear, the waters calm and the veneered, select guest jovial as the exclusive cruise ship, the Arora, begins her voyage in the North Sea.  At first, Lo's stay is nothing but pleasant, the cabins are plush, the dinner parties are sparkling, and the guest are elegant.  But as the week wears on, frigid winds whip the deck, gray skies fall and Lo witnessees what she can only describe as a dark and terrifying nightmare, a woman being thrown overboard.  The problem, all passengers remain accounted for, so the ship sails on as if nothing has happened, despite her attempts to convey that something terrible has happened.
With surprising twist, turns and a setting that proves as uncomfortably claustrophobic as it is eerily beautify, Ruth Ware offers up another intense read.