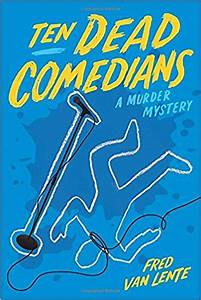 Ten dead comedians by Fred Van Lente
Format: Book
Who it's for:  Adults
"Fred Van Lente's brilliant debut is both an homage to the Golden Age of Mystery and a contemporary show-business satire. It is a darkly clever take on Agatha Christie's And Then There Were None (aka Ten Little Indians) and other classics of the genre. As the story opens, nine comedians of various acclaim are summoned to the island retreat of legendary Hollywood funnyman Dustin Walker.  These fictional comedians all will remind you of real life comedians in many ways. All nine arrive via boat to find that every building on the island is completely deserted. Marooned without cell phone service or wifi signals, they soon find themselves being murdered one by one. But who is doing the killing, and why?" -Publisher's blurb
I picked this up because of the publisher – Quirk books. They have many fun, different books for all ages.
If you have read or seen the movies based on And Then There Were None, you know it's a locked room mystery with a crazy, unbelievable, twisty ending.  I love Agatha Christie mysteries but I always tell people she cheats. The murder is always rather complicated. The murderer is a very fast MacGyver with the best luck. The timing is always just right. The murderer always figures out some hack to accomplish their goals. And the murderer is lucky that nobody sees them, except 1 person. Of course, that one person is eventually murdered. That is a Christie style mystery. I enjoy them but they cheat.
This parody is no exception. The murders are elaborate and take MacGyver type skills to pull off.  The murderer times things VERY well as they move from room to room. The ending is so fantastical you know nobody in real life could pull it off. But the story is an enjoyable mystery. The fact it is funny and satirizes showbiz is an added bonus.
I would recommend this book to mystery lovers, parody enthusiasts, folks in need of a laugh and those interested in the life of a comedian.