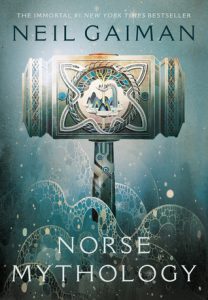 Norse Mythology by Neil Gaiman
Format: Book or Audiobook
Who it's for: Adults, teens, and children (parents should read it first – there is violence, drinking, and other mature content)
Neil Gaiman's works often reference mythologies (see American Gods, Anansi Boys, Sandman, The Ocean at the End of the Lane, and really almost anything else he's written). In Norse Mythology, he turns his interest in mythology toward the Norse gods, but instead of creating a fictionalized world based on them, he retells the stories of Odin, Thor, Loki, and other gods and characters as we know them from the Prose Edda and the Poetic Edda. Gaiman uses his witty and engaging prose to tell the story of how the gods received their treasures (including Mjollnir – Thor's hammer), Thor's journey to the land of the giants, the death of Balder, and more. In his capable hands, the stories — which span from the creation of everything through Ragnorak, the end of the world — are accessible and engaging, often funny and sometimes sad.
Anyone with even a passing interest in Norse mythology will enjoy this, and it's even better in audio. Gaiman narrates the audiobook (as he does for so many of his other works) and brings an added passion and wit to the stories (and you get to hear the names pronounced, which is useful if you go back and read the printed book).