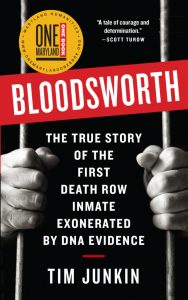 Bloodsworth: The True Story of the First Death Row Inmate Exonerated by DNA Evidence by Tim Junkin
Format: Book, eBook, Audiobook
Who it's for: Adults and Teens
This year's One Maryland One Book selection tells the unsettling, but ultimately inspiring, tale of an innocent man wrongly convicted of a capital crime. Sentenced to death for the grisly rape and murder of a young girl, Kirk Bloodsworth endured years of a hellish existence. He ultimately gained his freedom thanks to his own tenacity in researching legal options, which led him to the brand-new field of DNA testing.
In telling Kirk Bloodsworth's story, the author shines a glaring spotlight on some of the flaws in our justice system. He invites you to join Kirk as he journeys through hope, despair, determination, and ultimately vindication. As horrifying as some aspects of the story were, I found that I couldn't put it down.
Find it in the catalog. Then join us at one or all of the library's One Maryland One Book events, all centered around the riveting tale of disgrace and redemption told in Bloodsworth.