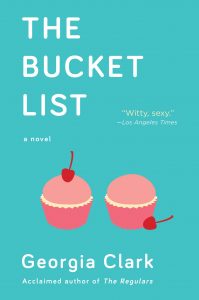 The Bucket List by Georgia Clark
Format: Book
Who it's for: Adults
For the most part, Lacey Whitman's life is going the way she wants it. She has a job she mostly likes and friends she can sometimes count on. However, everything she knows comes crashing down around her when she learns that she has inherited the breast cancer gene. Now she must make the life-altering decision of whether or not to have a double mastectomy at the young age of twenty-five. Lacey knows this is not a decision to be made lightly and, like any good Type-A millennial, enlists the help of her friends in making a pro-con list. Their verdict? Make a "boob bucket list" and give herself one year to complete everything she wants to do with and for her breasts before her possible surgery. Thus begins a journey of self-discovery and self-acceptance you won't want to miss.