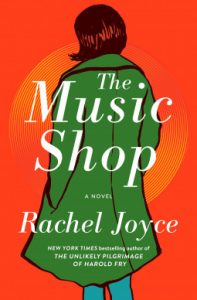 The Music Shop by Rachel Joyce
Format: Book
Who it's for: Adults
Frank loves music.  Frank loves vinyl.   He can look at his customers and "hear" exactly the record they need for the events occurring in their lives.
It's 1988 and CD's are the newest thing.  One music shop on a run-down, dead end street refuses to sell anything but vinyl.  Frank, the music shop owner, has created a family around his shop with the shopkeepers and residents on his street.   As shopkeepers on the street struggle to stay open, many begin to sell out to a local development company.  As the street empties, those that are left are inspired by the sudden appearance of a young, beautiful and mysterious woman who's fainting spell outside the shop ignites questions and excitement on their block.
As the story alternates from Frank's present in 1988 and his past with his enigmatic mother, he struggles with his desire to love this mysterious woman and his fear of becoming close with anyone.
Joyce has done her research on the music pieces that she weaves into the story.  It's just as interesting to learn about the background of the music as it is to follow Frank through his present and past life.  This story taps in to the power of music to speak to a person and touch their feelings like nothing else can.
If you loved The Storied Life of A.J. Fikry, you will love this book.