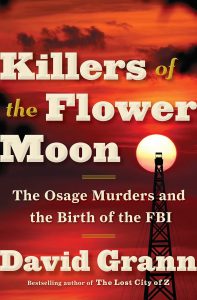 Killers of the Flower Moon. The Osage Murders and the Birth of the FBI  by David Grann
Format: Book
Who it's for: Adults
The Osage Native American tribe was living the good life in the 1920s thanks to the oil fields lying under their reservation in Oklahoma.  Living the good life, that is, until their members start dying at an alarming rate under suspicious circumstances.  When tribe members are found blatantly murdered, an investigation is launched by J. Edgar Hoover who is desperately trying to make a name for himself and his budding Federal Bureau of Investigation. Newly appointed FBI Agent Tom White assembles an undercover team to infiltrate the close knit and increasingly dangerous Osage community and risks his own life in order to discover who is behind the heinous crimes.
David Grann is an award winning journalist from The New Yorker who weaves this true tale of mystery, conspiracy, and racial injustice. Grann reexamines this case through his investigation and manages to tie up the loose ends that the FBI was unable to resolve almost one hundred years ago.
Find it in the catalog