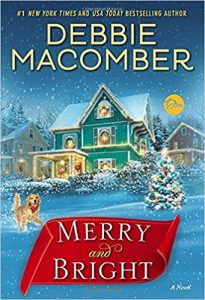 Merry and Bright by Debbie Macomber
Format: Book
Who it's for: Adults
Merry Smith has family obligations to her brother with Down Syndrome, aging parents and her brother's golden retriever.  She struggles to keep up with her job with a consulting firm at the Boeing Company.  She has no time for a social life but her mother and brother create a profile on an online dating service and she starts to accumulate many matches.  When Merry begins chatting with a stranger online she discovers that they have similar interests.  The chats soon become the best part of her day but she is reluctant to meet her mystery man.  This holiday story will be the perfect way to brighten your spirits.