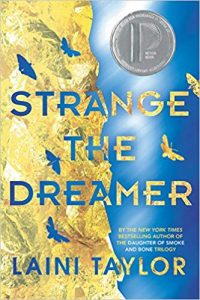 In this beautifully written book, Laini Taylor introduces us to Lazlo Strange, a war orphan with an enormous imagination. Cared for as a child by abbots, Lazlo has become captivated by the stories of the Lost city of Weep. His love of reading only grows as he does and he becomes a junior librarian but he fears his dreams of discovering the Lost City will never come true.
When an unexpected opportunity presents itself, Lazlo surprises everyone and even himself by seizing the chance to follow his dream. Along his journey, he makes friends and enemies both as he unravels the mysteries of Weep and even encounters a blue skinned goddess.
There are stories within stories, brimming with lore and myth that make the world of Lazlo Strange full, rich and one you'll want to stay in after you've finished reading the book.