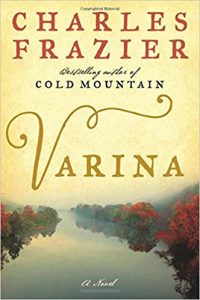 Varina by Charles Frazier
Format:  MP3 Audiobook
Who it's for:  Adults
This book, written by the author of Cold Mountain, is the story of Varina Howell Davis, the wife of the only president of the Confederate States of America.  At 17, Varina Howell marries Jefferson Davis who is 19 years her senior.  Years after their marriage (based on an arrangement rather than love), Davis becomes the president of the Confederacy.  The book transports you to a time in our nation's history when the Confederacy rises and then takes a catastrophic fall.
As an older woman, Varina reflects upon her young married life, her life as the wife of a politician, and her life as a young mother who grieves the loss of several of her children who died at young ages.  She explains in detail her escape from Richmond with her surviving children, as Union soldiers pursued her for being the wife of the treasonous Confederate president.   Varina details the resulting captivity of herself and her children, and what her life was like during the imprisonment of her husband.  Through Varina's story, the reader is able to see the harsh reality of what life would have been like at the end of the Civil War.
I listened to Varina through our library's Overdrive app.  Although I felt like the very beginning of the book took some time to get into, I quickly found myself wanting to listen continuously, in order to see what would happen to Varina and her family next.  When the book was finished, I felt compelled to research many of the events and characters mentioned in the story and their significance in our nation's history.  I would highly recommend the book.  You can find Varina in book, book on CD, ebook and audio book form.