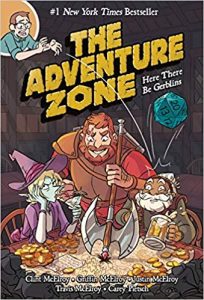 The Adventure Zone: Here There Be Gerblins by Clint McElroy, Griffin McElroy, Justin McElroy, and Travis McElroy
Publication Date: July 17, 2018
Format: Graphic Novel
Who's it for: Teens, Adults
A story of three brothers and their dad playing dungeons and dragons is a tale as old as time. If that time also included irreverent humor, wanton violence, and one overly dramatic elf. The hit podcast turned New York Time's best seller has hit your local library shelf. If fantasy, bad jokes, magical jellyfish, and goblin slaying sound like your kind of fun, welcome to The Adventure Zone! 
Here There Be Gerblins starts off with our three heroes bungling their way into a rescue of their employer from a lair of goblins, and they only make things worse from there. Our champions will encounter perils such as giant spiders, the Zone of Truth, and even tea with a bugbear (heavens!) Magnus the fighter is brash and will charge into any situation, Merle is the cleric who never knew he could heal, and the Wizard Taako who's more interested in looking good than saving the day. But don't forget Griffin, our dungeon master as he makes things harder for our heroes, and maybe make a few puns along the way.
Featuring the charming art of artist Carey Pietsch bringing to life these larger than life characters. They even have a section at the end of the comic dedicated to fanart to show off all the different fan perceptions of the characters from when they were a podcast. If you're looking for a new graphic novel series to invest in, volume 2, Murder on the Rockport Limited, is already announced for next year. So roll for initiative and prepare for goofs, it's the Adventure Zone!