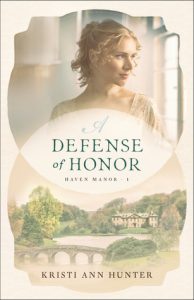 Title: A Defense of Honor by Kristi Ann Hunter
Format: Book
Who's it For: Teens and Adults
Katherine FitzGilbert, "Kit," was cautiously optimistic when she met Graham, Lord Wharton, behind a potted plant at a London ball. If she didn't need to escape from two thugs who wanted her papers, she wouldn't be at the ball. And if she hadn't met Graham, she might not have believed that there were truly kind and respectable men who were also titled. Could he actually be trustworthy?
Kit and Graham's paths next crossed in the countryside of Marlboro. Graham had arrived with his friend Oliver to track down Oliver's missing sister, Priscilla. While Oliver rested at an inn, Graham explored the forest nearby. He arrived on horseback at a manor bearing two children, Alice and Henry, the latter who'd injured himself while playing in a tree.
"What are you doing here?" asked Kit.
Graham was likewise puzzled. What were Kit, two other women, and about a dozen children doing at a secluded country manor? Was there a connection between Kit being in Marlboro and her visit to the ball in London?
When the  local bridge flooded, Graham was pleased to stay longer with Kit and the children. Meanwhile, Kit dreaded that Graham would discover more about their hidden life at Hope Manor. Would Kit and Graham discover each other's secrets?
I enjoyed this well-written story of illegitimacy and love in Regency England.