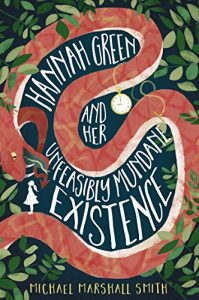 Title: Hannah Green and Her Unfeasibly Mundane Existence by Michael Marshall Smith
Format: Book
Who It's For: Adults
Hannah Green is eleven years old and her parents are separating. Her mother is working in London and Hannah is home in Santa Cruz with her father. She misses her mother, but finds herself missing her father more as, though he is right in front of her, he seems to be lost. She goes through her daily routine – school, homework, food, bed. Her life becomes "horribly, unfeasibly mundane." Until her father sends her to stay with her world-traveling grandfather for a while in a cabin in the Pacific Northwest and the Devil shows up. The Devil has discovered that he is no longer benefitting from the dark power usually transferred to him when humans commit bad deeds. This might have something to do with a machine Hannah's grandfather built.
Hannah, her grandfather, the Devil, and an accident imp named Vaneclaw travel to the Behind (a version of Hell you can get to without dying) via Siberia to try to get to the bottom of the mystery. Meanwhile, Hannah's father has disappeared and a man with bad intentions sets out toward Santa Cruz to fulfill an unknown mission. All these individuals come together at a roller coaster on the Santa Cruz boardwalk where the fate of humanity will be decided.
Reminiscent of Terry Pratchett, Neil Gaiman, and Jasper Fforde, Smith has produced a story and characters that stick with you and leave you wanting more.