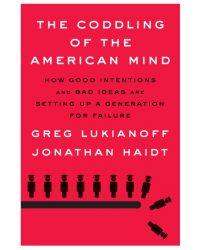 The Coddling of the American Mind: How Good Intentions and Bad Ideas Are Setting Up a Generation for Failure by Greg Lukianoff and Jonathan Haidt
Format: Book, eBook
Who it's for: Adults, Teens
The Coddling of the American Mind addresses the question of why partisan rancor and over-the-top protests have mushroomed in recent years on college campuses. The authors argue that belief in three "Great Untruths" [(1) what doesn't kill you makes you weaker; (2) always trust your feelings; and (3) life is a battle between good and evil people] has become widespread, especially among the generation that entered college in the last few years. They grant the capital-U "Untruths" designation to beliefs that both contradict psychological research on well-being and cause harm to the people who hold those beliefs.
Through the lenses of freedom-of-speech principles and cognitive behavioral therapy, Lukianoff and Haidt examine recent upheavals on college campuses and how they relate to the untruths. They explore several reasons why the untruths have become more common, including helicopter parenting, changes in our notions of justice, and adults (including college administrators) who encourage the notion that mere words can make someone "unsafe". The book wraps up with recommendations for reducing the power of these ideas, from expanding recess to revising campus policies and practices that affect freedom of speech.
Despite the possible impression created by the title of the book, the authors are not engaging in a partisan rant about "liberal kids these days". As they state themselves, "Most students are not fragile, they are not 'snowflakes', and they are not afraid of ideas". What they do offer is an invitation to think more deeply about an issue that affects the heart of American democracy: who is allowed to speak, and what we are allowed to say.